Our Mission
Build a world class management team and acquire best in class assets, giving investors exposure to a pure play lithium company with multiple assets across diverse jurisdictions.
LiTHIUM X is a lithium resource explorer and developer with a focus on becoming a low-cost supplier for the burgeoning lithium battery industry.
Its Sal de los Angeles project is situated in the prolific "Lithium Triangle" in Salta Province, Argentina. The project is comprised of 8,854 hectares and LiTHIUM X now controls 100% of the mineral titles contained within the brine bearing regions of the Diablillos basin. Approximately C$20M invested in work on the property between 2010 to 2017. It contains high grade brine with a NI 43-101 Mineral Resource Estimate of 1,037,000 tonnes of lithium carbonate equivalent of Indicated, and 1,007,000 tonnes of lithium carbonate equivalent in Inferred category.
LiTHIUM X is also exploring the district-scale 33,846 hectares Arizaro project located in one of the world's largest and least explored salars thought to contain elevated lithium brine values. LiTHIUM X believes there is the potential to increase and enhance brine processing at Sal de Los Angeles, Lithium X's flagship project, by combining with brine products from Arizaro. The entire salar is staked with other current land holders in Arizaro including Eramet, Sentient and REMSA (Salta Government).
Furthermore, LiTHIUM X owns 19.9% of Pure Energy Minerals, a company exploring and developing a large land package of approximately 26,3oo acres surrounding Albemarle's Silver Peak lithium mine in Clayton Valley, Nevada.
LiTHIUM X is listed on the TSX Venture Exchange under the symbol LIX.V.
Our Team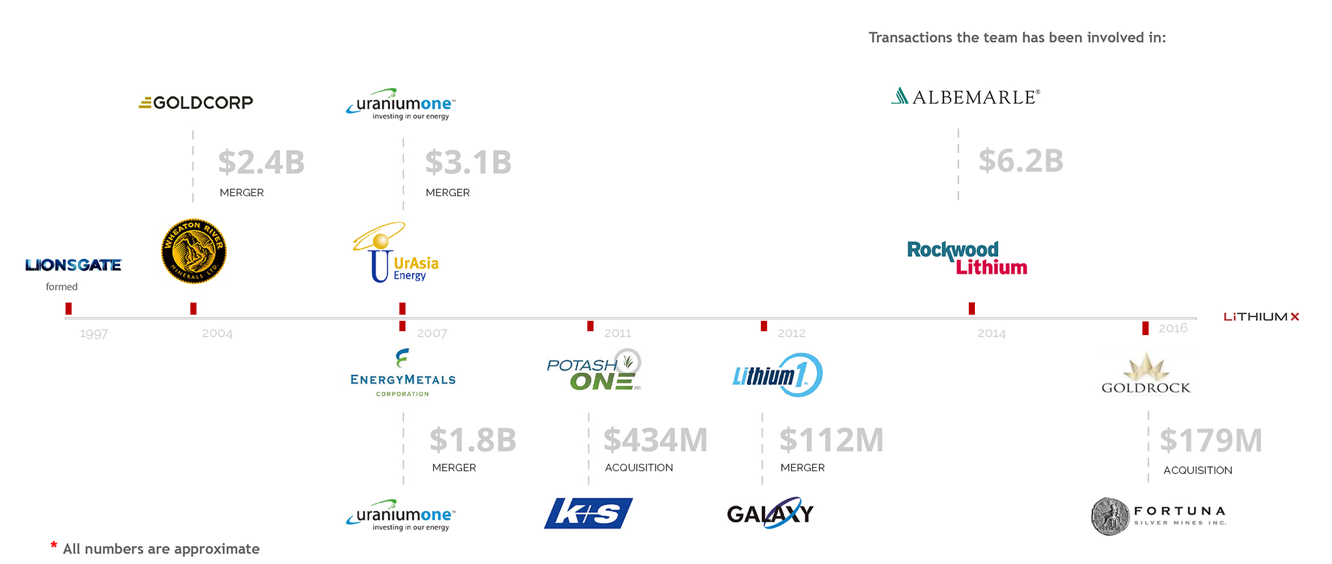 PAUL MATYSEK
Executive Chairman, Board of Directors
Mr. Matysek is a corporate entrepreneur with over 30 years of experience in the mining industry. He is currently Executive Chairman of Lithium X Energy Corp. and has previously held senior executive and director positions with several natural resource exploration and development companies and is a proven company builder.
Mr. Matysek was recently President and CEO of Goldrock Mines Corp., focused on The Lindero Project in the Argentinian puna, which sold to Fortuna Silver Mines for $178M in July 2016. In the lithium sector, Mr. Matysek was previously President and CEO of Lithium One Inc., whose world class lithium development project was in northern Argentina. In July 2012, Lithium One merged with Galaxy Resources of Australia via $112M plan of arrangement to create an integrated lithium company. Prior to Lithium One, Mr. Matysek was the President and CEO of Potash One Inc. where he was the architect of the $434 million friendly takeover of Potash One by K+S Ag, which closed in early 2011. Prior to founding Potash One, Mr. Matysek was the founder, President and CEO of Energy Metals Corporation ("EMC"), a premier uranium company traded on the New York and Toronto Stock Exchanges. Mr. Matysek led EMC as one of the fastest growing Canadian companies in recent years, increasing its market capitalization from $10 million in 2004 to approximately $1.8 billion when acquired by a larger uranium producer in 2007.
BRIAN PAES-BRAGA
Founder & CEO, Board of Directors
Mr. Paes-Braga, CIM, is founder and CEO of LiTHIUM X. Brian has spent almost a decade in the international financial sector working with firms ranging in services from underwriting, mergers and acquisitions, asset management, venture capital and private equity. He is a partner at Fiore Group, where he helps source, structure and finance startup companies in the natural resources and technology sectors. Brian is also an Advisory Counsel member for the International Crisis Group and a Board Member of Community First Foundation, which focuses on childhood hunger in the Vancouver, Canada area through its program Backpack Buddies.
EDUARDO MORALES
COO
Mr. Morales is a chemical engineer with 36 years of experience who formerly built and operated one of the world's largest lithium brine operations. As President of Rockwood Lithium Latin America, he successfully led the development, commissioning and operation of Rockwood's Salar de Atacama project. His tenure with Rockwood Lithium ended with the company's sale to Albemarle Corporation for US$6.2 billion in 2014.
Mr. Morales previously served as General Manager overseeing construction and operations of both the ponding facilities at Salar de Atacama and lithium carbonate and lithium chloride plants in Antofagasta, Chile. He holds a Chemical Engineering degree from the University of Santiago, Chile.
ANDRES BARRIENTOS
Project General Manager of South American Operations
Mr. Barrientos, a chemical engineer, was the Engineering & Research Superintendent of Rockwood Lithium in Chile until 2012 when he moved to BHP's Escondida, the world's largest copper mine. He also helped develop expansion and improvement projects including operational plants for lithium carbonate, lithium chloride and the study of new technologies for the production of lithiumhydroxide.
WILLIAM RANDALL
VP Project Development
Mr. Randall is a professional geologist and qualified person ("QP") with extensive exploration experience in the lithium industry. For almost a decade Mr. Randall has led numerous exploration programs, including drill campaigns in Nevada's Clayton Valley and high-altitude salars throughout South America. Mr. Randall was raised in Argentina, educated in Canada and is fluent in both English and Spanish. He will be VP of Project Development for the company on Clayton Valley exploration programs and instrumental in finding, analyzing and conducting due diligence on other assets.
BASSAM MOUBARAK
CFO
Mr. Moubarak is a Chartered Professional Accountant who has held senior executive positions for various mining companies for over 10 years including most recently Goldrock Mines Corp. where he played a key role in its sale to Fortuna Silver Mines Inc. for $180 million.  He was Chief Financial Officer of Petaquilla Minerals Ltd. where he was instrumental in raising in excess of $120 million to develop and bring into production the Molejon Gold Mine.  He also played a key role in the sale of Petaquilla Copper Ltd. to Inmet Mining Corporation for $400 million and negotiated the sale of Golden Arrow Resources Corporation's 1% net smelter royalty on Gualcamayo Gold Mine to Premier Royalty Inc. for $17.75 million. Mr. Moubarak also previously held the position of senior manager with Deloitte & Touche LLP., where he led audits of public companies and oversaw SOX 404 implementations with specific emphasis on the mining industry.
FIORE MANAGEMENT & ADVISORY
Founder & Corporate Advisory
Fiore Management and Advisory Corp (lead by Gord Keep and Frank Giustra) is an advisory company responsible for equity financings, corporate structures in creation of new natural resource companies and public company administration.
HARRY POKRANDT
Board of Directors 
Mr. Pokrandt served as Managing Director of Macquarie Capital Markets Canada Ltd. from September 1985 to August 2015. Mr. Pokrandt served as Managing Director for a major international investment banking firm, leading its Metals &Mining Group at its Vancouver office. He was previously involved with resource-focused investment bank boutique  Orion Securities Inc., where he worked in Institutional Sales for over 20 years. He worked on numerous financing and advisory assignments in the metals and mining sector. He has been a Member of Advisory Board at IDM Mining Ltd. since May 26, 2015. He serves as a Director of Sandspring Resources Ltd.
DAVID RAFFA
Board of Directors
David has been working in the technology space for more than thirty years in a variety of roles including scientist, corporate finance lawyer and venture capitalist.  David retired from the practice of law in 2002 when he moved into venture fund management and investment banking.  He currently is President of Valeo Corporate Finance Ltd. (www.davidraffa.com) where he provides M&A services to small to mid-cap technology and industrial companies looking to exit, as well as longer term advisory services for companies looking to accelerate growth.
David has led or been a key player in numerous successful exits of both public and private technology and resource companies including Goldrock Mines which was acquired by Fortuna Silver (NYSE:FVI).   Most recently, David was co-founder of Emerald Health Therapeutics (TSX:EMH), a medical marijuana company having grown to a market cap of over a half a billion dollars.
David has a BSc (Biology) from Simon Fraser University (Vancouver, BC, Canada) and LLB (Law) from Osgoode Hall Law School (Toronto, Ontario, Canada), and was named by BC Business Magazine as one of B.C.'s "Top 25 New Elite" in the technology sector in 2004.
MICHELE ASHBY
Board of Directors
Ms. Ashby is a serial entrepreneur, independent corporate director, author and the Founder of the Denver Gold Group, an international trade association for the mining industry which she ran from 1988 to 2005. Ms. Ashby is currently an executive business consultant, gold expert and financial coach.  From 2005 through 2013, she was Chief Executive Officer and owner of MINE LLC , a Colorado limited liability company organized to promote natural resource, oil & gas and clean tech companies to the investment community through private investor forums globally. In that capacity, she developed marketed and organized private forums for investors, bankers, and resource company executives. She also founded Dani's Foundation, a non-profit 501-c-3 organization in 1999 in memory of her daughter.  Under Ms. Ashby's leadership from 1999 to 2014, Dani's Foundation raised and distributed over $1M for pediatric cancer research which resulted in more than two clinical trials in the US for Ewing's Sarcoma. From 1987 to 1995, Ms. Ashby was a stockbroker and mining analyst in Denver, Colorado.